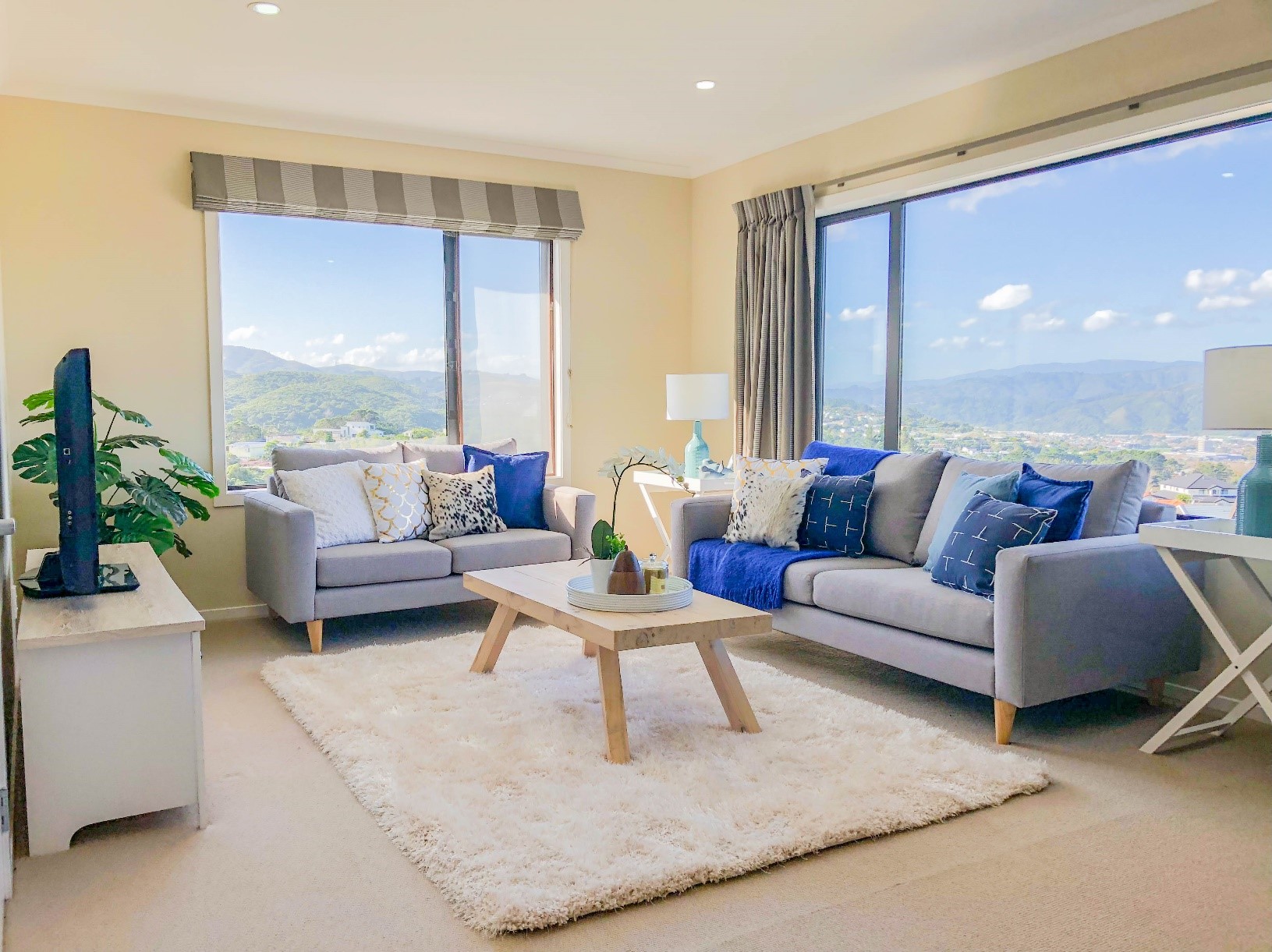 Living in a home that is currently staged for selling is something many people and families have to do. Doing this may take some getting used to, but the trick to living in a staged home is striking that perfect balance between having a liveable pad, while keeping it pristine and expertly staged to get it sold stat. Here's our guide for doing just that!

Switch to Hotel-Mode
So, your home has just been staged to absolute perfection. There's brand-new furniture and even little vignettes on all your surfaces. How will you possibly keep it this pristine? The first thing you want to do when you walk into your staged home, is to put yourself into something we like to call 'holiday mode'. Essentially, you need to think of your home as a hotel room for the foreseeable future. This helps you get into the mindset, so you avoid getting too comfortable and letting cleaning habits slip.
Remember, it's all about creating the perfect first impression on minds of the buyers, and you may need to do this at any time of the day—just like you aren't sure when the hotel staff are going to pop into your room. Keep your space inviting all day long by being as clean and tidy as if you were in someone else's fancy home. After all, you don't want dirty laundry or dishes, used towels or undone beds to put down the value of your home if your real-estate agent comes by.

Untouched spaces
A lot of families will find they don't need to use every space in their home every day of the week or every hour of the day. Some rooms you may not even put your foot in for days at a stretch. How many times have you visited your formal dining area or your home office during the weekdays? When was the last time you had overnight guests to check-in at your guest room? Keep these spaces locked and untouched, only opening them on showing day.
The more spaces you can leave untouched after home staging, the fewer rooms you'll have to clean when showing day comes up! The same applies to bathrooms as well. If you have more than one bathroom, how about using just one (tough but not impossible) while keeping the rest neat and tidy. Less work for sure!

Emotionally disconnect
Critiquing your home is the best way to emotionally disconnect. You may have a lot of memories and emotional attachment to things and objects at your home, but once it is staged, you'll find all those things have been put aside, allowing you to look at your home objectively. Emotionally disconnecting from your home can help both you and potential buyers. They get to paint their own picture of what they can do with the space, and you get to re-evaluate what you may or may not need in your next home!
Play a game!
Living in a staged home with kids and pets around is a different story altogether! Add to that a husband that's got a penchant for mess, and you've got a mountainous cleaning task on your hands anytime you want to have any potential buyers round.
Instead of bearing all the burden and cleaning up after them, play a game with your family. Every time they clean their messes up, you give them a point which can add to an extra incentive at the end of each day or week. Bonus points can be given when they do a job outside normal chores for added benefits. This is a great idea and works well if you've got a competitive bunch. They'll work extra well if you get creative with your rewards!
Team up with the staging experts
Selling a home is an overwhelming experience already, more so if you'd be living in it until the last day before you officially sign-off. You already have 101 things on your mind and are sure to miss out on certain key areas to look into when it comes to showing day. Instead of stressing yourself out, get professional help! Team up with our Wellington home staging experts right here at HomeStaged and get a customised homestaging service that would enhance your property and get you the most valuable equity for your property.