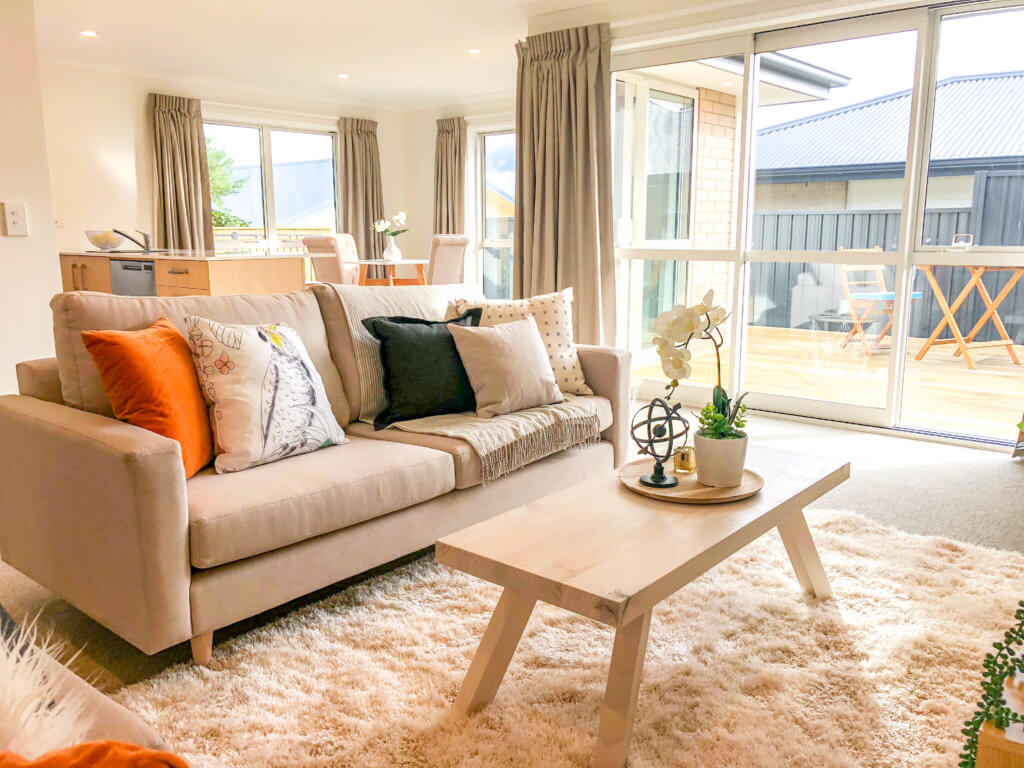 5 Home Staging Tricks to Make a Small Living Room Look Bigger
When it comes to home staging, the rule is to make the rooms in your house look bigger – and therefore more appealing – to potential buyers. One of the key places where this concept applies is the living room – the place where homeowners tend to spend the majority of their time entertaining and relaxing. Hence, the living room gets extra scrutiny during home staging.
In this post, we will look at five simple tricks to make a small living room look bigger, without spending a fortune.
1. Lighten up
Natural light will not only make your living room brighter, it tricks the eye into thinking the space is larger. Keep window treatments and curtains to a minimum to maximise light. Mounting the curtain rods as close to the ceiling as possible will create the illusion of height. Using light, airy fabric curtains, such as linen, will make your living room much bigger.
If your living room doesn't get enough natural light, a great trick is to hang mirrors. Mirrors help reflect any light you have, making the space look much larger.
2. Place your furniture strategically
An empty living room gives potential buyers no point-of-reference for size. Staging a room helps establish size and will enable buyers to visualise how they can arrange their own furniture. It might seem counterintuitive, but an empty room forces a potential buyer to imagine the space occupied at all, rather than just exchanged with their own furniture.
Keep large furniture out of the living room, or in corners. Having excessively large furniture will make the room look smaller. Choosing smaller scale furniture will leave more white space and make the living room seem larger. The trick is to not make the living room feel cluttered with furniture, whether big or small. Taking advantage of white spaces and choosing tasteful decorations will make it more attractive to the eye.
3. Choose the right materials
Materials such as glass and metal will reflect light and make a space feel open. Choosing furniture, accent pieces, and fabrics in lightweight materials will give a greater sense of space as well. Dark and bulky wood furniture does the opposite, and often makes the space feel smaller and cluttered.
If you have large furniture such as bookshelves and cabinets, replace them with floating shelves. Floating shelves free up more space and create the illusion of a much larger room.
4. Choose the right colour balance
Brightly coloured walls will help make your living room larger. Although white walls are a popular option, it can make the room feel uninspiring. You can have fun with colours, but you will need to follow some basic rules to avoid overwhelming the space.
Bright colours should be used in limited amounts and repeated for balance. For example, if your rugs or curtains are blue, include various shades of blue in your room's accessories, instead of the walls. Opt for neutral colours for the walls, allowing you to add brighter colours to other pieces in the living room.
For ceilings, choose a lighter shade than your walls to avoid the room feeling boxy. Colours are a powerful way to add space and character to a room, so use it to your advantage.
5. Focus on your largest piece
Making the most of a small space can be challenging. Start by carefully assessing the room for your largest piece of furniture – this will likely be the sofa – and use it as a comparative measure for other pieces.
Every item in the room has to serve a purpose with your largest piece, be it functional or decorative. If the pieces don't serve any purpose, remove or replace them. In home staging, the goal is your space, not your stuff. Remove items that occupy a lot of visual real estate, and replace them with neutral items.
Items such as TV sets can be obtrusive to the buyer. Instead, use a wall-mounted flat-screen TV that's appropriately sized for the room. A room with too many large items can put buyers off. Creating visual balance is key to a successful home staging.
First impressions are everything
Living rooms are an essential part of the home staging process as they are the rooms where most people spend their free time at home. Although staging can be tricky for a small living room, taking advantage of these simple tricks will make your small space look more appealing to would-be buyers.
As the only Wellington home staging service to offer both full and partial home staging, and a 3D walkthrough that allows potential buyers to connect with the home before they even step inside, the team at HomeStaged will be able to create an appealing, inviting version of your home that can help raise its sale price and encourage a quicker purchase! Contact HomeStaged today to find out more about our services, and how we can help you sell your home.